Between the 400-year old Castle and the Beautiful Lake,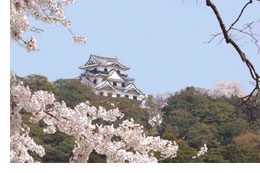 Shiga University has two campuses. The Faculty of Economics and the Graduate School of Economics are located in Hikone Campus. The City of Hikone is located about 60 km north-east of Kyoto, Japan. Our Hikone Campus sits near the eastern shore of Lake Biwa, the largest freshwater lake in Japan. On the other side of our campus, there stands a little mountain. When you look up at the mountain, you will find a 400-year old castle, which is designated as a national treasure. The history of Hikone goes back to hundreds of years ago was. However, in the early seventeenth century when the castle was built, the city was already developed.
The population of the city is approximately 110,000. The temperature of the city is 15.7 Centigrade on average, with a maximum of 35.2 Centigrade and a minimum of -3.5 Centigrade (2004). In summer, many people enjoy various water sports such as swimming, wind surfing, and boating on the lake, and have barbeques on the beach. In winter, skiing in the nearby mountains is one of the major activities that many people enjoy. Bestowed with an environment opportune for academic research, the host city of Hikone is a wonderful place to enjoy university life.