Economics course
Management course
Master's Program
---
About the Program
The globalization of finances has given rise to a need for practical all-round knowledge in finance and the graduate-level education of skilled professionals capable of applying that knowledge to everyday business situations. This need prompted the University to establish its Master's Program in Global Finance under the Graduate School of Economics in April 2001.
The program addresses three primary goals:
(1) to develop finance professionals with a global comprehension of theoretical financial engineering who are properly equipped to develop financial products and formulate policies;
(2) to assist those responsible for finance in local governments in mastering the area under their control and bringing their skills up-to-date; and
(3) to develop future certified public accountants, licensed tax accountants and financial planners who are well equipped to analyze business situations.
To this end, the program provides a comprehensive education in the three fields of finance theory: basic finance theories (financial engineering, etc.), theory and policy for financial and securities markets, and practical finance (corporate finance, public finance, international accounting, etc.).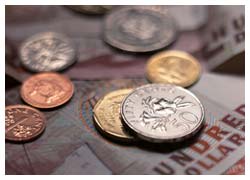 syllabus (In Japanese)
Lectures
Theory of Derivatives
Theory of Mathematical
Micro-Finance
Macro-Finance
International Finance
Public Economics of Finance
Financial Engineering
Insurance and Annuity Markets
Domestic and Foreign Financial Systems
Central Banking
Credit Risk Management
Comparative Local Finance
Public Finance
Central and Local Government Bonds
Commercial Law
International Financial Accounting
Initial Business Planning
Seminar