A New Curriculum Introduced to Develop Addvanced Professionals
Contents under this page
Academic Features
The master's program comprises three fields of specialization - Economics, Management, and Global Finance - for the development of specialist researchers and professionals. Shiga University's Graduate School of Economics draws its academic varieties from its Faculty of Economics, one of the largest of its kind among national universities in Japan, comprising six departments of Economics, Finance, Management, Accounting Information, Information Processing and Management, and Social Systems. Such diversity allows the school to offer a multi-faceted curriculum that covers economics, management and other disciplines in social science and information science, and supports studies into contemporary society from a multi-sided approach.
Burning with a desire for the most distinctive academic disciplines, the faculty of up-and-coming researchers is now joined by the staff from Nomura Research Institutes, a partner think tank. Together with students, they are dedicated to academic research from a broad perspective.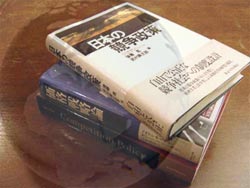 ---
Master's Programs
Field of Specialization
Quota
Graduate School of Economics
Economics
20
Management (Partnership School)
20 (2)
Global Finance
10
Professional Program - A New Curriculum
(1) Academic objectives and courses
In 2005, we introduced a new curriculum, the professional program. This program is to develop advanced professionals capable of addressing the needs of contemporary society. The program consists of two courses:
Management Course The objective of the course is to train professional administrators who, with their comprehensive understanding of standard theories and systems in key areas of business, are capable of applying their knowledge to specific cases. The course provides the kind of practical expertise typically available to MBA students during their coursework, with a view to preparing business people to exercise leadership in the creative development of business from an applied historical perspective.
Public Policy Course Students in this course are expected to develop the competence to recommend and assess policy in favor of the public interest, whether in the public or private sector. The course provides a comprehensive interdisciplinary knowledge of social science, a must for policy professionals, as well as economics, to train community leaders who will be able to contribute to the creative development of their communities.
(2) About the Program
The Professional Program does not require a master's thesis. A master's degree is awarded to students who have earned the equivalent credits in addition to the program courses, and have presented the required number of term papers.
The Professional Program is designed to assist students in acquiring and applying specialized knowledge, theory and skills through core courses, advanced courses, and seminars. The curriculum of selected core courses includes practical training with some reference to standard graduate-level texts in related fields.
Certification is awarded to those students who have completed the coursework and satisfied the requirements of the Professional Program.
(3) Degree
As indicated above, certification is awarded upon completion of this new program. This certification will be indicated on the master's degree diploma in addition to the primary area of specialization: economics, management, or finance.
The following chart indicates the relationship between the academic degrees and the program courses.