Society, civilization and nature - a close look at complex modern society from many different perspectives
Students in this Department do research in a broad range of fields, like social sciences (economy, society, law, politics), humanities (languages, culture, history), and natural sciences (nature, computers). Through their contact with these diverse disciplines, the students acquire advanced knowledge in each field and a broad educational foundation. At the same time, they learn to use a broad perspective in applying a systematic understanding of social structures and relations to the synthetic interpretation of the variety of events in contemporary society.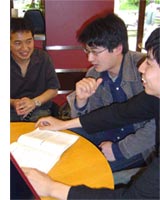 Courses
Social Systems: Basic theories used to interpret contemporary society.
Legal Systems: Varied social phenomena from a legal perspective.
Information Systems of Thought: Multi-sided study of human 'wisdom.'
International Cultural Systems: The languages, cultures, and history of various regions of the world.