Multi-discipline analysis of economic phenomena to acquire a grasp of complex inter-relationships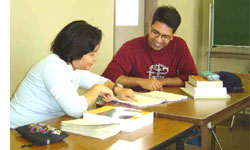 Economic activity plays a vital role in our everyday lives, in society at large, and in international relations. In the Department of Economics, students follow a multi-discipline approach to the study of the numerous aspects of economic phenomena, including theory, history, systems and policy. As students analyze the complexities of economic phenomena from various perspectives and sort out their inter-relationships, they acquire an overview that illuminates the fundamental structures and underlying systems.
Courses
Principles of Economics: Analytical approach designed to show students how economic theories are formulated and guide them in constructing one of their own.
Applied Economics: Detailed study of the tools for quantitative and demonstrative analysis of economics.
Political Economics: Analytical approach to economic policies and social policies.
Comparative Economics: Analytical approach based on international economic relations and the history of economics.