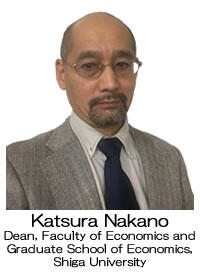 The forerunner of the Faculty of Economics at Shiga University, Hikone Commercial College, was founded over 95 years ago. Since then the Faculty has developed into an academic institution that offers courses from the undergraduate level to the Doctoral level.
Our faculty is one of the largest faculties of economics among national university corporations in Japan, and has more than 70 faculty members, who are engaged in research in various academic fields such as economics, business management, accountancy, law and other human sciences.
One of our unique characteristics is that the education provided and the research pursued here are comprehensive and interdisciplinary.
Our principle of education is to nurture professionals with international perspectives, who will work for the good of communities. We call such professionals 'Global Specialists'. This principle is realized in our curricula for both undergraduate and graduate courses. We have opened our door to everyone who is academically motivated. At present a large number of students from various countries are studying in our undergraduate and graduate courses.
Our undergraduate school has 5 departments: Economics, Finance, Management, Accounting Information and Social Systems. Our students, though they choose one department for their major, all study under one curriculum.
At the Graduate School our Master's Course has three divisions: Economics, Global Finance, and Management. In our master's degree program, we realize our aim to nurture researchers and professionals with both a broad outlook as well as specialized knowledge in their chosen field. We believe that graduates of these programs will be very well suited to work in the present Age of Globalization.
In practicing the education explained above, we will constantly update our educational system to cope with this dynamically changing economic environment and to meet with the various demands of society. We sincerely hope that many highly motivated students will be interested in what we are doing, and apply for the Faculty of Economics of Shiga University.